Yesterday I went to my first ever book signing at Waterstones, Birmingham New Street. It was for Neil Gaiman's new(ish) book, Ocean at the End of the Lane.
I haven't queued up to meet someone for ages. I was the kind of kid who would get to a gig 10 hours early to catch a  glimpse of the band. I queued from 6am when I was 16 to meet McFly. But a book signing is a different experience all together.
First of all, the people at a book signing are completely different to music fans. When I asked a girl if she could hold my place in the queue while I bought the book, she was so friendly. If it was a music fan I can guarantee that they wouldn't have done that for me.
I got chatting to her and two other girls (I say girls… I've got to get used to being a 'lady'), which is very strange for me because I can be ridiculously socially awkward – but not this time. The four of us chatted while waiting in the queue, about Neil Gaiman, his books, reading, literature, writing, etc. It was so nice to talk to like-minded people. They all went to University in Wales and one of them recommended a literature course to me (for the distant future). It's so great what you find out when you actually talk to people.
That's another major difference between book and music fans. Everything seems to be a competition with music fans, and they can get volatile, snobby and crazy. They can make you feel as if you have to explain yourself all of the time. That's one of the main reasons I decided I didn't want to get into Music Journalism.
I'm not knocking the whole music culture or anything, I spent the best part of my teenage years going to gigs and meeting bands.
I'm sure there must be some crazy literature fans (I guess it depends on the book), and I did expect some snobbery. But all I found was book recommendations and stories. I've never talked about reading for so long.
When it came to actually meeting Neil Gaiman, it looked like we were going to be rushed through (I expected a scribble… next). There were so many people and only three hours (which had already been extended from two). But that wasn't the case at all.
Neil.. Mr Gaiman was one of the nicest people I've ever met. He was very smiley, asked me how I was, and said he was so excited to be there. He told me that his first (or first major?) signing was in Birmingham and this may be the last big signing he does. He has crazy curly hair that looks even better in real life. He even took the time to do a little doodle each person's book.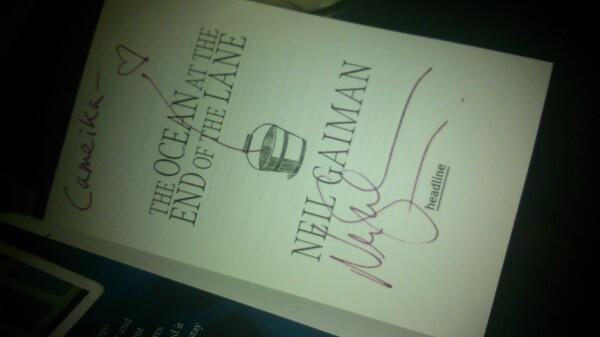 There was also a guy filming for a documentary on Neil Gaiman. I wish I'd tried to find out more about (but it's nothing Google won't fix).
So I think I've found my new crowd. I will definitely be going to another book signing. Now I'm ready to try some book/poetry readings and maybe even a writing class.