Coraline is the story of a young girl who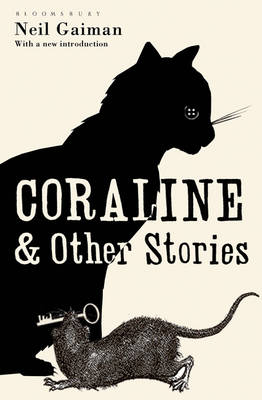 has just moved into a new house with her parents. They're the usual boring, busy parents who leave her to have adventures by herself, which is fine until she starts to explore the house, finding a strange world behind a small door.
She soon gets wrapped up in the world of 'other' people. At first it looks like a more fun version of the real world. But before long, she starts to notice the strange differences.
Will she be able to escape, and free the other trapped children and her parents before it's too late? Maybe with the help of the black cat.
The invention of the 'other mother' was so clever. Most children have probably dreamed of living in an alternate reality. But like most children's stories, this one teaches them to be careful what they wish for.
The way the author, Neil Gaiman, created the real world characters, as well as their 'other selves', was ingenious. The differences betwwen worlds  start off small, then and get bigger and bigger as the 'other world' changes.
Coraline has an Alice and Wonderland feel about it. The character Coraline, could be any little girl, looking for adventure. She should be an inspirational character for  all young girls. Unlike so many other stories, she is her own hero. She doesn't need a prince charming to save her, unless you count the cat (who is more of a sidekick).
This book is quite haunting and could actually be pretty scary for a child,. But we don't  see enough of that in books. Children's entertainment, especially  for the younger kids, is pretty boring these days. Looking at children's TV it's no wonder they are turning to stories and films not meant for their age group.
We need more story-tellers like Neil Gaiman to get kids back into literature. They need something that will drive their imaginations wild, which will make them stop and enjoy the fun of make-believe.
As he wrote in the introduction to the book:
"Funny fiction should make us laugh. Sad fiction should make us cry. And scary fiction…"

"…that should be the tapping of the twig on the window, late at night, when you're alone in the house. The way that shadows slide, amended by imagination, and the whisper of something that may only be the wind."
Coraline, reminds me when I used to read  Enid Blyton stories, such as The Magic Faraway Tree and The Famous Five as a child – the kind of stories that make your imagination run wild.
Just as I thought they don't make stories like that anymore I'm swept into the magical world of Neil Gaiman.