I can't stand crowds, especially when I'm on a mission. I came here for one reason and one reason only. I said I was going to do some last-minute Christmas shopping. Well if they knew me at all they'd know I'd done it long ago and everything was neatly wrapped, tucked under my Christmas tree.
I weave my way through the people, tripping over a pram as a disinterested mother shuffles by. The air smells sweet with a hint of spice, just like Christmas. But I can't find it. Where is it?
There are only two days of the market left. By Sunday it'll be too late and even more crowded. I try to look over the people, but it all looks the same. I pass a toy stall with wooden models, the macaroon stand and men drinking beer from giant glasses.
I start to panic. It's getting darker and colder. As I wade through the people I begin to lose hope. Then I see it.
I push frantically to towards it, trying to run. But there's no space. Then I'm there, standing right in front of it.
I exchange some coins for a small package.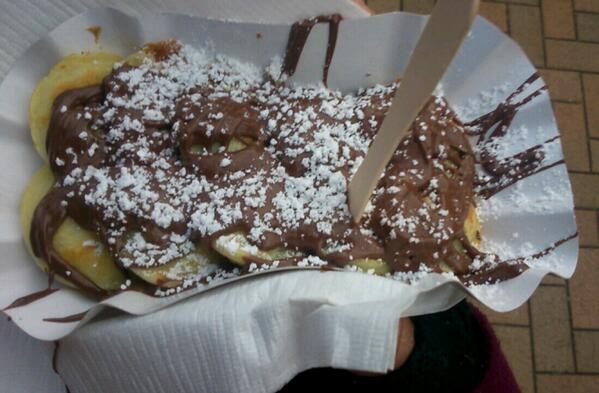 Finally I have them, smothered in chocolate and sprinkled with a fine dusting of icing sugar. They're beautiful, hot, sweet and delicious… and in a few minutes they're gone. It was worth it.
I decided to write a short story dramatising my love for something. In this case it was mini pancakes. It's not quite rage, but it made me laugh  because I could almost imagine myself  doing this as I was writing it.
I hope you enjoyed it as much as I enjoy those mini treats!