When I was a kid I could easily read a book in day. I'd get through a couple of Enid Blyton books a night and still have time to read the next one in the morning. But children's books are so much shorter than adults' books and we seemed to have so much time on our hands back then.
I think this is why so many people don't read. I hate starting a novel then realising I haven't picked it up in a month and have to start again. How many people look at a novel and think, "When am I going to have time to get through that?" Then there's the sequel, and another, maybe a prequel…
This is why I love short stories. But as an adult it's not as easy to find them – unless you're looking for something sickeningly romantic or sexy, then Amazon is full of free ones.
A while ago I was watching Neil Gaiman talking about his Likely Stories. He said (I'm pretty sure he was quoting someone) that a short story is like the last chapter of a book. It's true. They just get to the point, don't faff around too much with a background story, and  before you know it you're at the end.
Neil Gaiman is one of the great short story writers. If you haven't already, read Coraline and Other Stories, there's one story that's like a weird retelling on the Three Billy Goat's Gruff. I could read that over and over.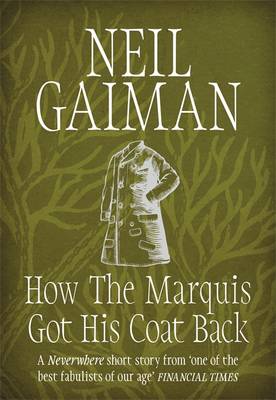 Anyway this brings me to the cutest little short story book I found in Waterstones (yes Neil Gaiman again) – How the Marquis Got His Coat Back. If you're familiar with Gaiman you may have read Neverwhere. I sadly haven't yet. It's on my list. Well this book is a Neverwhere story. But as I said I haven't read it  yet and I still enjoyed this.
Short stories tend to come in groups.. collections? But not this one. The best £1.99 i have ever spent for something that just slips in my bag. The best thing about it – it's not just a book you can read in a day, it's a book that you can read in the time of a football match. I read pretty fast so I had to watch some football but I'm getting used to that.
But yes, for you football widows, bus/train commuters, shift workers with short breaks, I bring you the single short story! (that's totally how they should advertise them)
If anyone knows of any other authors who write single short stories, let me know. This tiny book made my day.. and it has also one crossed off my 2016 Reading Challenge list. So win win for me!